Process Safety Compliance - William Grant & Sons Vat Rooms
When William Grant & Sons (WGS) was looking for a specialist consultancy to help them with a series of process safety compliance audits at installations in Europe and the USA, they knew from experience that Allen Associates (AA) was the perfect company for the job.
With a track record of successful delivery on a range of similar projects, the team at AA knew that the added benefit of its design expertise would help WGS make the right decisions on its capital expenditure.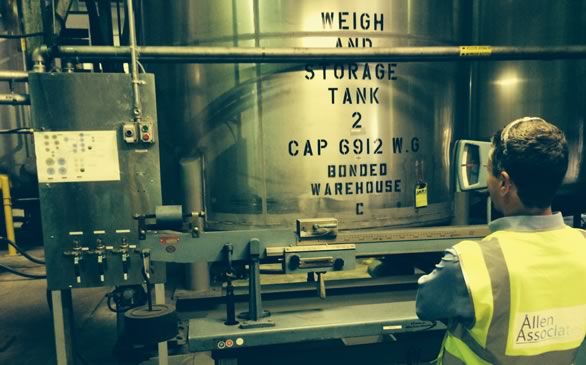 The Project
The audits were carried out at a number of vat room installations across Europe and the USA over a six month period, with each audit delivered to WGS as soon as it was completed.
Key project actions included:
DSEAR / ATEX hazardous area zoning and risk assessment
Fire case emergency venting (BLEVE)
As built P&IDs (Piping and Instrumentation Diagrams)
For the European audits SWA guidelines were used together with European Standard ISO28300. For the US audit SWA guidelines were used together with US Standard NFPA30.
In addition to the company's expertise in the field of Process Safety Compliance, Allen Associates was also able to utilise its wealth of experience in process design in the spirits industry. Combining both skill sets allowed AA to examine a range of other options for improving the site, including the potential to install new plant to deliver more efficient operation.
This was particularly evident at Edison New Jersey where it became clear to AA for the long term benefit of the site it was worth considering installing a new multi-purpose vat hall outside in the existing yard area.

Results
The project was delivered on time and on budget, with WGS praising Allen Associates on the high quality of the work.
Allen Associates utilised its expertise in multiple areas to provide a complete solution for WGS. The benefits of a new installation suitable for multi-product processing with hygienic design and CIP (Clean In Place) giving full batch integrity, will ultimately help to future proof the site. There was also an added benefit that the existing vat hall could be easily converted into a dry goods storage area, resulting in cost savings.
It is this ability of Allen Associates to use its experience to visualise the bigger picture which sets the company apart from other process safety consultants, and this was appreciated by WGS. Instead of spending capital in existing plant there can be more to be gained for installing new.
As a result of Allen Associates work on the WGS audits the company has now been commissioned to prepare high level designs and associated budget costs for options for the new vat room at Edison.